Lowbrow Answer: The Mummy
Really? You're covered in toilet paper and you're going to chase me at a snail's pace with your arms outstretched? I should just hang my clothes on your arms and have you follow me around for quick outfit changes. Your constant groaning is pretty annoying too. It sounds like you're always constipated. Drink some prune juice, man.
And why the bandages? I assume your face is rotted and mangled underneath all that wrapping, but you're a movie monster. You're supposed to be terrifying, not look like some sort of viral toilet paper advertisement. "Charmin: soft enough to wipe your ass with but strong enough to keep your undead corpse in one piece."
Middlebrow Answer: Count Dracula
He's got a great pad, a good sense of style, and a sexy European accent. Plus his dental hygiene is impeccable. I would totally go out with him. I'd just be sure to wear a turtleneck. I'm also down with any biological condition that keeps me inside all day. "Oh, sorry honey, I'd love to do the grocery shopping and pick up the kids, but you know what the sun does to my skin."
I can't tell you how sick I am of this recent vampire craze, however. "True Blood" can suckle my balls. And I'm sorry, but "Twilight" is lame. I wish that series' fans would just get over themselves and watch some porn. I know some great DVDs where you can actually see two vampires bone-sawing. Let me loan it to you and we can all let Robert Pattinson go back to working as a gas station attendent.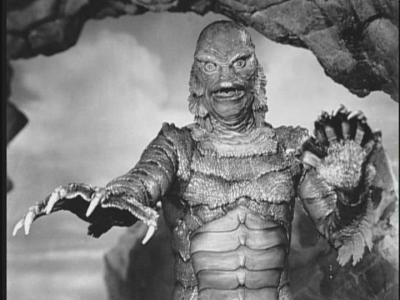 Highbrow Answer: The Creature from the Black Lagoon
Nothing says class like waterfront property. In the Amazon, no less. This guy lives in a remote part of Brazil and spends his days fishing and reading. Sounds pretty highbrow to me. None of this terrorizing villages or hunting down human prey; he's too busy studying aquatic botany and perfecting his tan.
If you're still not convinced about The Creature's obvious highbrow status, why don't you grab a paleontology textbook and do a little research on the
Eucritta Melanolimnetes
. It's a fossil amphibian discovered in a fetid swamp by a University of Cambridge professor. What's the name mean? Oh, no big deal. It's Greek for "the creature from the black lagoon." BOO-YAH.