Lowbrow Answer: Waterboarding
Waterboarding sounds like something douchbags do behind a speed boat on a lake in New Hampshire: "Hey bro, grab some PBR and your Volcom shorts - we're going Waterboarding." Couldn't you give it a cooler name, like "Land-Swimming" or "H2-Oh-No" or "The Aquaman Surprise."
The idea here is that you make the victim feel like he is drowning. The problem is that every account I've ever read of drowning says that it's actually quite a euphoric feeling. So you've got a bad guy and you want him to tell you about all his bad guy plans and you're going to do that by making him feel euphoric over and over and over again? No wonder we can't find Osama Bin Laden.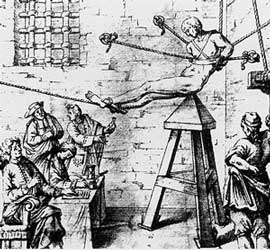 Middlebrow Answer: The Judas Cradle
Now THAT is how you name a torture device. I'm terrified of this thing just based on the title alone. The deal is, they chain your neck to the wall and then make you sit on a little pyramid until the thing slides up inside you and splits you open. Brutal. It's slow, it's jagged, and it's a real pain in the ass. Literally. Imagine getting an enema with a bowling pin.
Although I can't help but feel that there are few people who would enjoy being chained to the wall and having a small pyramid rammed into their asshole. Like those guys that are turned on by a girl throwing up onto a balloon, or those woman who think it's hot when a dude puts a hamster into the end of his dong. It ain't torture if Kinky McGee is getting off on it.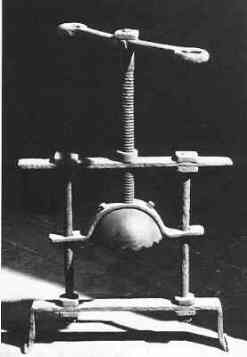 Highbrow Answer: The Head Crusher
This one is pretty straightforward. No bells, no whistles. Just your eyeballs squeezed out of their sockets as your head is crushed in a vice. Apparently the first thing that happens is your teeth are pressed up into your jaw. Then your forehead collapses and your brain begins leaking out of the cracks in your skull. So. Just to recap. Teeth into jaw. Forehead collapse. Leaky brain. You could draw a picture of this device in red crayon and I'd still tell you everything I know. Jesus.
The Head Crusher was primarily used in that delightful little period of Iberian history known as The Spanish Inquisition. Some priest in a dress would stick your head into the device and ask you if you believed in Jesus. You say no, they turn the crank. You say yes, they burn you alive. Man. Kinda makes all that child molesting look pale in comparison. (too soon?)